---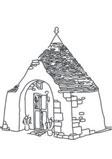 history culture art
TERRITORY
Thanks also to the very strong link with the sea, its history of civilization, culture, art and traditions has always been marked by the peculiarity of being an opening and a bridge to the East.

In the heart of the Bari area, where expanses of olive trees and vines alternate with castles and cathedrals, where trulli and farms stand among almond and cherry trees, there is the lower Murgia, the home territory of the DOC Gioia del Colle Primitivo.
An extraordinary place, where despite the karst nature and the arduousness of the soil, the crops grow thick and luxuriant, punctuated by dry-stone walls, the symbol of an industrious and willing peasant culture.


Puglia, the heel of Italy, is the easternmost region of the whole peninsula.